I've recently met a few folks who've mentioned they want to travel across Canada. Well, here's a guide to how to travel across the nation on the cheap. Some I've done, others I have not (such as hitch hiking.)
Canada is a huge country and much of it is unpopulated. However, it is a beautiful country that can offer travellers of all types a spectacular view of natural landscapes in between the big cities. There are many ways to make the trip not only a little more budget-friendly, but you'll get to see a whole lot more. Plan a route, bring your camera and get ready for a trip of a lifetime.
Air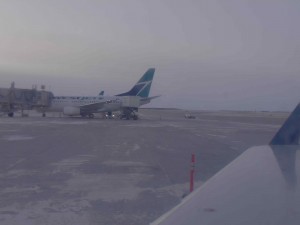 By far the easiest way to transverse Canada is by flying. Although you'll get to you destination faster, you'll also be paying a premium for that opportunity. What's more, you'll be missing out on a lot of what Canada is known for: it's broad landscape. But, if you're tight for time, air travel is the way to go. There are really only two major Canadian airlines, Air Canada and Westjet. And since there isn't much competition in such a geographically large country, they basically control the prices. That being the case, both companies often run special deals on Thursday during which you can snag tickets at heavily discounted prices (before taxes and surcharges, of course). Failing that, online discount travel websites make it easy to find other airlines that often fly through the major cities all over Canada. My favourite place to check is cheapoair.com, but sites such as airgorilla.com, hotwire.com, skyscanner.com and tripadvisor.com are also useful in finding cheap tickets.
Rail
One of the best and most comfortable ways to see Canada's landscape is to take the train. Eastern Canada is better connected than the West, and there's certainly more to see, but if you don't mind taking long train journeys, travelling from Toronto to Winnipeg and on to Banff or Vancouver can cost as little as $400, meals not included. Some careful planning will be required, however, since there is only one national train operator, VIA Rail. In addition to their regular, discounted, and senior tickets, they also offer many last minute tickets for up to 75%. Both sleeper and economy cabins are available.
Bus
If you've got more time than money, travelling by bus is another option. Much more connected than train, the bus is especially cheap if you book online and 21 days ahead of your departure date. Although you can find sleeper buses and buses with WIFI in Eastern Canada courtesy of carriers such as Megabus, if you're looking to travel across Canada you'll have to suffice with upright seats and sleeping on the bus, and for that you'll have to go through Greyhound. The view is a little different from that which you see by taking the bus, but the time is about the same, except in the winter when roads can be hazardous to drive.
Hitch hike
If you're an adventurous sort and wise to the ways of the road, and completely out of cash, hitchhiking might just be for you. As a word of caution, hitchhiking can be dangerous so please exercise caution and leave messages with friends or family letting you know where you are and how you're getting on. That being the case, one website to find out more about hitchhiking Canada is www.ibackpackcanada.com run by Corbin Fraser, a Canadian travel blogger. I met one American guy who said he knew where Winnipeg was because he had hitched across Canada before. His story involved a stop over an aboriginal reserve where some less than seemly characters made their appearance. So it is, but it's not all like that. His story demonstrated the dynamics at play throughout Canada and took him right through the gorgeous scenery that we are proud to have in our nation.
Car
Thanks for the TransCanada Highway, Canada is well connected from Halifax to Vancouver by concrete. If you're looking to drive across Canada the summer is the best time to go as the weather will be optimal and, though road construction can slow you down, the highways won't be made treacherous by the elements. With national car rental chains such as Avis or Enterprise, you can rent a car in one end of the country and drop it off in another, some conditions may apply. Along the way you'll see the Rocky Mountains in the west, the Great Prairies and the Canadian Shield in the centre, the nature and historical buildings of Eastern Canada and beyond. Unfortunately, gas prices have gone up in recent years making this option a more costly one. However, pack your car with some camping gear, a portable BBQ, and get ready for a memorable trip across one of the most beautiful countries in the world.
And there you have it, five methods to travel across Canada on a budget.