As part of my series on teaching ESL abroad, I would like to discuss some of the countries that will pop up in your search for a job. Although money isn't the primary driver in going abroad, it sure helps in deciding to take that risk to go abroad and ease the transition into a new place. This post is intended only to give you a general idea of what the countries are like in East Asia.
For more information on how to find a job you need to read my previous post, How To Find a Job as an ESL Teacher Abroad. Finally, three of the places listed below (South Korea, Japan and Hong Kong) have government-sponsored education programs, which I've written about here. I've visited many of the countries listed below but some I haven't. If you want to read more about first-hand accounts living abroad, check out the immensely useful Expats Blog, a website that lists plenty of blogs from people living all over the world.
With flights, accommodation, generous salaries and benefits included in many packages, the question often becomes, why wouldn't you go? Most contracts are for a year, but some may ask you for a longer commitment. Whether you want to find an expat community or commingle with the locals, these places give you the choice and compensate you well. Larger salaries (average of $2000/mth), however, often mean higher costs of living. For most of these countries you will need a university degree and/or a TEFL certificate.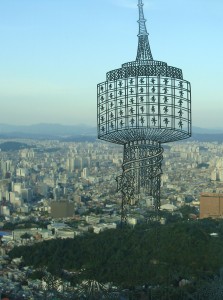 SOUTH KOREA
The Land of the Morning Calm, and South Korea is just that. Although the younger generation will tell you that they aren't very religious, Buddhism and Christianity are visible throughout the country, meaning lots of temples, but not so many churches for some reason. The cost of living is much cheaper than neighbouring Japan and the Koreans themselves are only too happy to help you. And with the recent speech by North Korean president, the Korean peninsula is set to see some changes in the coming years. That being the case, South Korea is well-connected through a series of highways and railways that make getting around no problem at no. Finally, if you're worried about not knowing the language, the Korean language, with its Hangul script, isn't very difficult to pick up. Spend some time on a site like livemocha.com or omniglot.com to get acquainted with the characters which will make your life easier. The Koreans are immensely proud of their language not only because it dates back hundreds of years, but because it was specially tailored to the way the people speak. Oh, and get ready to hear lots of Kpop!
JAPAN
You don't need to love manga or sushi to love this country. A history-rich, naturally endowed and culturally unique, Japan is often the first country that pops into people's minds when they think about teaching ESL. Since a lot of folks simply want to get out of their homelands and "try something different", Japan offers the farthest place away from home, literally. Through their JET programme they've made the process very easy to go through. Read through the JET programme and see if it suits you since it has a few different aspects to it (not just teaching ESL). Further, you don't have to be an artist to be inspired by the calligraphy, music and films that the country has produced.
TAIWAN
Earthquakes galore rock this uber-developed nation of 23 million people. When I was there in 2010 one of the ESL teachers cautioned me on the chain schools in the country, suggesting that I should take a look around and see what else I could find. Ask around and do your homework to make sure you end up with a placement that will make your visit enjoyable for yourself, your employer, and, most importantly, for your students. It's a bustling country, especially its capital Taipei, and the people are very friendly. Further, since half of the world is manufactured on this little island, finding Western amenities isn't a problem.
VIETNAM
Steeped in both ancient and modern history, Vietnam is quickly becoming a rising star in southeast Asia on the ESL circuit. Forming part of the backpacker's trail you'll need to talk to a few different folks to get a sense for what the country and its people are like. If you stick to the tourist areas you'll have one sort of experience, complete with being targeted as an ATM. However, get outside of the tourist areas and you'll see a whole different Vietnam. Although you're best bet is to look in the big cities, don't leave out the smaller cities n your search. With 86 million people in the country, a huge tourist industry, and an emerging economy, the demand for English teachers is rising. Incentives are attractive (~$1700/mth + benefits), the coffee is amazing, and the cost of living is cheap, Vietnam is rapidly becoming the "new South Korea". Not only that, teaching in Vietnam offers you excellent access to explore neighbouring countries Laos and Cambodia.
HONG KONG
Expensive, but it might be worth. Hong Kong offers opportunities for the adventurous soul who wishes to see, experience, and learn all about Chinese culture and make money at the same time. Since their schools encourage bilingualism and trilingualism, the need to learn English is huge. Closely connected with mainland China, teaching ESL in Hong Kong will allow you to work in one area but give you a hub from which to explore the rest of China (bearing in mind that most folks need entry visas to visit mainland China). Hyper-developed and a "fast" city, you could consider the island to be "Westernized". In any event, you shouldn't have too much trouble finding your necessities or comforts.
CHINA
A vast country that spreads from the overly-developed East Coast to the Middle East and Russia in the west. Wealth-gap concerns aside, the country offers natural beauty and a dynamic culture mixed with the pulse of just over 1 billion people. I recall some folks suggested learning Mandarin since China and its people will become more prominent on the world stage. It's not a bad idea. One of the best ways to learn a language is through immersion, and you'll need to immerse yourself in the culture if you want to focus on learning the language. That being the case, the pay in China seems to be on the rise. It wasn't long ago that you could expect to live comfortably in the country but not save much. That seems to be changing. You'll have your choice of city or village placements, which will differ greatly, but will still be memorable. Chinese students are very well behaved and disciplined when it comes to their eduction. They will respect you and be utterly thrilled (and maybe a bit scared) to have a foreigner teaching them. If you're looking for a unique opportunity to teach ESL, Disney has opened up a series of schools focused on learning English with the likes of Mickey Mouse, Cinderella, and a host of other famous characters. Some Chinese placements have even begun offering a TEFL certificate upon completion of your contract. Furthermore, if you're not a native English speaker, your chances of landing a job here are actually better because of the demand for English speakers.
That should be a pretty good list to get your started. But if money's not your thing or maybe you're looking to get away from the beaten path, then read my next post in which I offer a glimpse of some countries that aren't usually on the list for ESL teachers.