This weekend is Duanwu Jie, better known as the Dragon Boat Festival. We got Thursday off and they moved Friday's workday to Sunday in order to give people a long weekend (oh China!). Luckily I don't work on Fridays anyway and so I have a four-day weekend. I couldn't find any up-to-date information on where the dragon boat races were to be held so I ended up grading essays instead. Yey me. While I was reading through these "Chinglish" papers (though, I'll admit that by now they are getting much better), one of my students messaged me asking if I had gone on vacation since I'd finished her class's essays. I politely informed her of the other stacks of essays I had to grade and the upcoming portfolios and exams I had to go through before my vacation truly began. She didn't seem too concerned about that for some reason. "Poor Steve," she wrote.
And that got me thinking: I haven't been reading many normal books as of late. A few months ago I posted that I wanted to read some 24 books this year. Well, I've kinda strayed from that goal as my average per month has dropped to about a book a month, if that. On the other hand, as a writing teacher, I have managed to keep up the number of words that I've actually read. That is to say, I read some 264 500-word "journals" and 198 800-1200-word essays over the course of the entire semester. Doing the math, that's 132,000 + 158,400-237,600 words = 290,400-369,600 words every semester. Divide that by 250 words (the average number of words on a page in a printed book) and you get 1161.6 to 1478.1 and then divide that by 250 pages (the average number of pages in a published book) and you get 4.65 to 5.91.
All that is to say that I've read an additional 5 or 6 books worth of words each semester that I am a writing teacher. It's actually larger than that since I teach a couple more writing courses than that but you get the idea. But these aren't masterpiece books, nono, they're all "Chinglish" books that I have a honour of reading and correcting and grading. So, I guess, in a manner of speaking, I have or will reach that 24-book number, just not the type of books that I want to read. Oh well, getting paid to read could be worse I guess. (Right?)
But what have I been reading? Currently two other books, Rise of the Robots: Technology and the Threat of a Jobless Future by Martin Ford and Mary Beard's SPQR. The first was a rather easy read and enjoyable, though I found some of the parts stretching what seemed reasonable. I often tell my students that they need to support their arguments with hard facts and I know Martin Ford is an expert in his field, but he seemed to be making some large jumps about the idea of a jobless future.
I'll confess I don't know much about robotics but the idea that they'll take over our jobs seems overhyped. What will more likely happen, in my humble opinion, is that humans and robots will work together making us (humans) much more efficient than now, the same way we now work more hours per day but it doesn't seem like it because technology has made our lives much simpler than even 20 years ago. Moreover, with the rise of robots I'd argue that one of the more important skills we could learn now is how to program robots to work for us. (Though, judging by my attempts to program my Otto on my MacBook, I have a long way to go.) China Daily just published an article about how Chinese companies are looking for people with skills in robotics. Surprisingly, when I showed the article to a few students, none of them pointed back at me and declared that by playing video games in class they are, in fact, building another set of work skills in addition to their multitasking skills. I'll wait for them to figure that out on their own.
The other, Mary Beard's SPQR, is also a rather easy read and I garner that it is supposed to be so, given that it's aimed at the general audience and not the academic audience. The book covers the history of Rome and how it grew over time and held onto to its dominant position for such a long time, starting roughly at 500 BC and going up until the early third century AD. I can say it sure makes it easier than trying to read all of the source materials in their originals (all of the notes and citations are placed at the end for those who are interested) though it does make me think that maybe I should keep up my Latin and ancient Greek reading (yeha… when? After my Chinese lessons?!)
Speaking of Chinese lessons…
You might recall my "brilliant" idea of reading the Chinese newspaper. Well, let's just that that idea has run its course. My idea to "Jack Bauer" or "James Bond" the Chinese language (that is, pick it up simply by scanning a newspaper or listening to a few spoken sentences) has basically run its course.
I mentioned my idea to another foreign teacher and he kinda looked at me with one of those faces that you give to a student who's brought a really ambitious essay topic to you or perhaps made a conclusion that, though you can't argue with at the moment, you just know isn't going to work out, before he started with that hesitating voice that says "you're not going to like my answer, but… ." He went on to make the comparison that, in China, newspapers are one of the most advanced types of reading you could do, given that many of the Chinese characters are actually shortened from their originals (of which I cannot provide any examples because, well, I can't read the newspaper) whereas in much of the Western world the newspaper is one of the more base forms of reading/writing. In contrast, Chinese novels can be rather easy to read while Western novels seem to be a little more difficult.
Not to be daunted, I took my newspaper and my bold idea to my Chinese teacher and she pretty much had the same reaction. Point blank she said it'd be too difficult and "a waste of time." Like Chinese newspapers, Chinese teachers don't mince words, I guess. She explained how some of the words are "mashed" together (my explanation, not hers) and so it's often difficult to tell what they really mean given that they may not show up in the dictionary. In regard to novels, however, she said it depended on what type of novels I read. Fiction would be easier, but anything classical or historical and it would probably be tough.
So what to do? Well, undaunted, though concerned, about what I could actually read, I trumpled down to the language bookstore and lo and behold, found some graded readers that have both the pinyin and the hanzi and a few definitions written in the margins. What's more, it came with a separate "line reader" that I can use to cover up either the pinyin or hanzi and practice reading. Neat. The book says it contains the first 500 words of whatever but it is part of a series of books that stretches from 500 to 2500 words. So this is my summer challenge.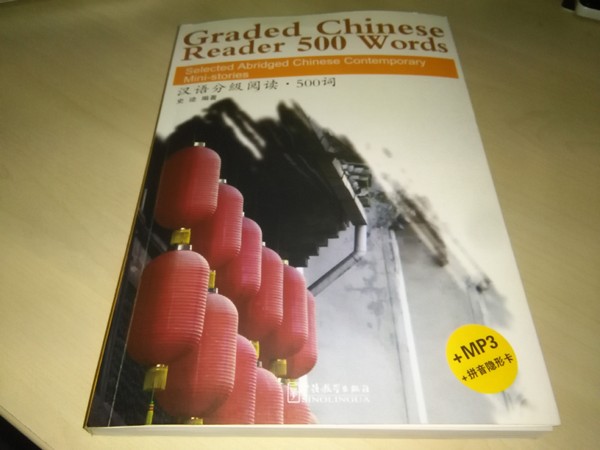 All of this takes me back to those days in university where I'd spend hours basically reading the dictionary in an attempt to understand whatever Latin or Greek passage I was working on at the time. What's more, I realized that I don't think I've ever gone a year without trying to learn some other language. It got me thinking, when does this all end?!
Anyway, the weather's much hotter and more humid now, low 30Cs and, in my opinion, it seems to be raining more this year than it did last year, which is nice. It's also been a lot less polluted than last year, making this spring and summer pretty nice so far. Gets me wondering why I'd want to go back to Canada where I know the mosquitos are waiting to eat me alive.