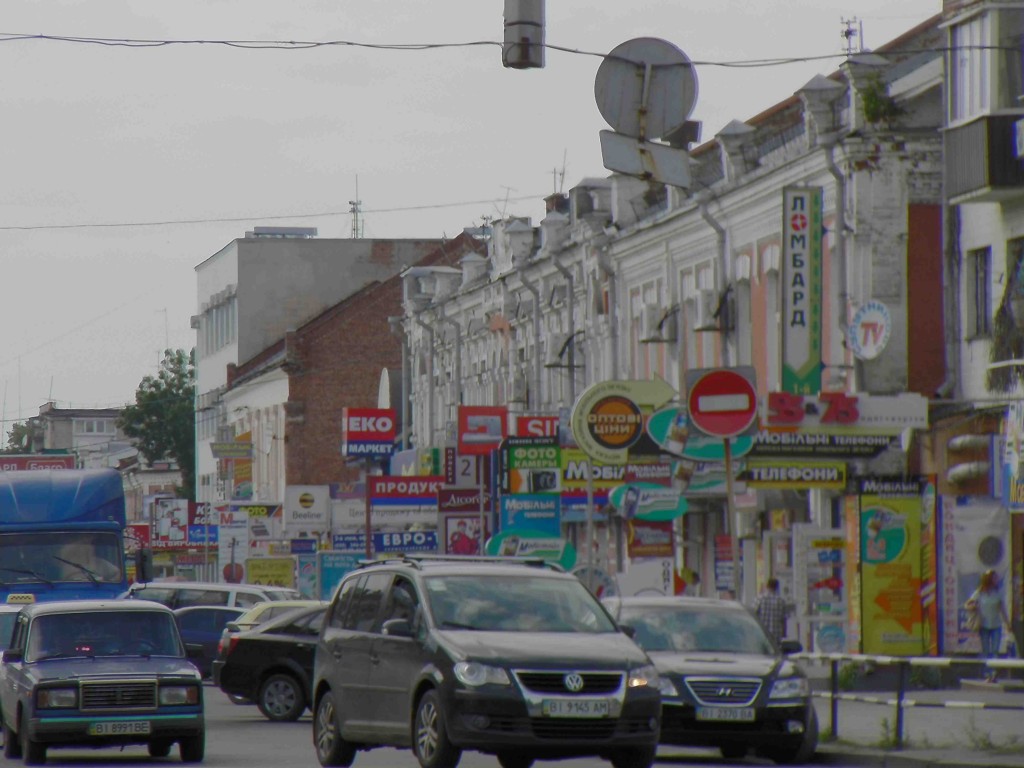 My second day in Poltava was also eventful. I had in mind to see a few museums and possibly seit in a cafe to wile away the day. I'd already seen the monuments dedicated to the soldiers, Kozaks, and city memorial the day before, including the ubiquitous statue of Taras Shevchenko. In a museum mood, I decided to pop by the Cosmonautics Museum.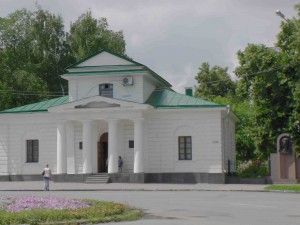 Actually, I didn't intend to go to the Cosmonautics Museum, but I ended up there because the Ivan Kotlyarevskyj's museum was closed. The Cosmonautics museum is just across the street so I decided to pop by to see if someone knew what was going on. Long story short, the middle-aged woman running the desk didn't speak a word of English so they decided to call on their daughter who knew English. Hello Ukrayeenka! In walked a typical, slender, well-put-together 24-year old Ukrainian university student who worked in the museum during the summer months when not at university.
She didn't know why the Kotlyrarevskyj museum wasn't open, she even asked her mom (the lady running the front desk) to call the owner. No answer. So I decided to take an hour-long tour of the Poltava Cosmonautics Museum. It's here that I'd learn that Poltava was an alternate landing site for allied World War 2 planes? And that Yuri Vasilievich Kondratyuk (birth name was Olexandr Gnatovich Shargei), a local scientist, came up with several revolutionary ideas for space flight which would eventually be used in the Apollo program? (Though, apparently, NASA would come up with them on their own.) The museum, though small, housed quite a few authentic artifacts and some replicas from Poltava's long history of space research.
Not wanting to walk around Poltava by myself, again, I asked her if she'd mind taking me around Poltava, like a tour guide. She could practice her English and I could practice my Ukrainian. Clearing it with her mother she finally agreed. Off we went.
We spent the day together and she told me all about the city, its history, its significance, and where it can go from here. I suggested we get a bottle of horilka for our journey, but she said she doesn't drink that early in the day. Some folks have standards, I guess.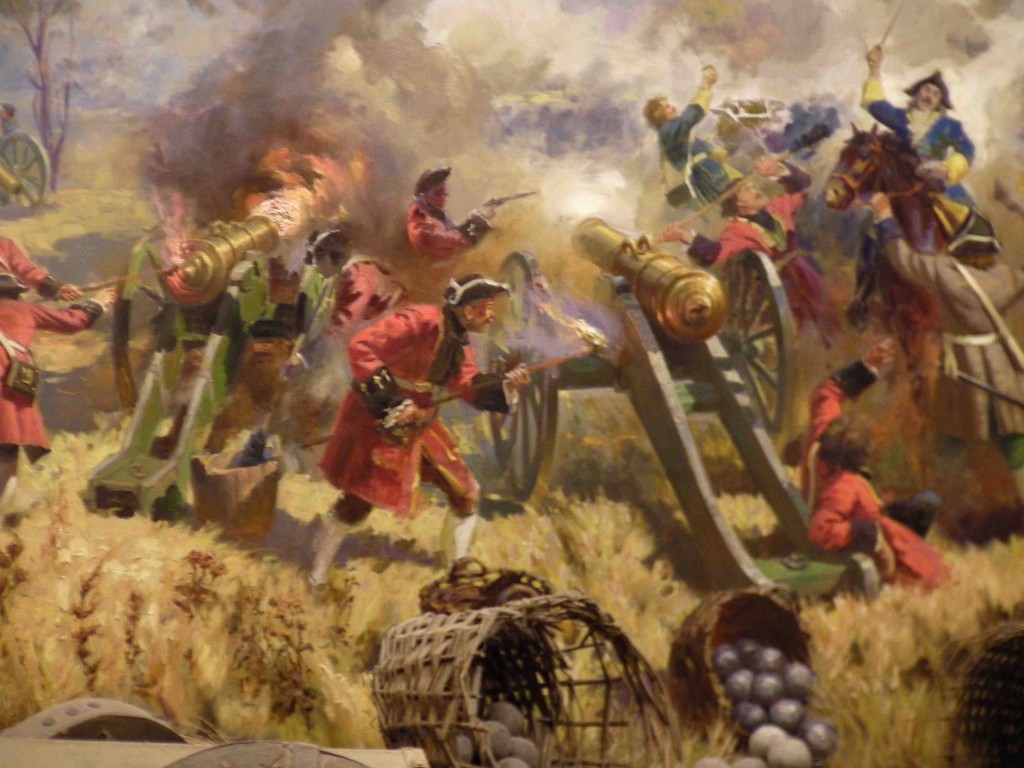 The city of Poltava is the location of a famous battle between the Ukrainians and the Swedes which decided the course of Ukrainian history for centuries to come. It was during this battle that Ivan Mazepa, praised by some as a hero but derided as a traitor by others, would lose the battle and leave Ukraine in the hands of the Russians. We visited part of the battle site and visited the museum where we attached ourselves to an English tour already in progress. I was surprised to learn that the tour group, although listening in English, was actually Swedish. Apparently lots of Swedes like to visit Poltava and its battle sites for its history.
Heading back to the city, we walked around downtown Poltava. My guide impressed me with the knowledge of her city's history which made me kinda wonder what I knew about my hometown Winnipeg. Churches, buildings, monuments and Ivan Kotlyarevskyj's house.
Steve, who is Ivan Kotyablahblahblah?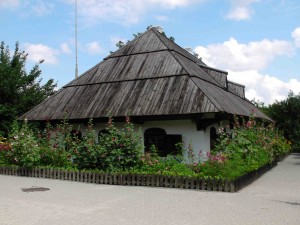 Ah, well, Mr. Ivan Kot-lyah-rev-ski is one of two famous writers to emerge from Poltava. In any event, Mr. K. is credited as being the first truly Ukrainian writer. He read Vergil's Aeneid and was inspired to write his own version. The result was a story called Eneyida in which the characters of Vergil's work are Ukrainian Cossacks but have Greek and Roman names. Not only that, following in the tradition of Homer and Vergil, Mr. K. wrote his book in half the space it took Misters H. and V. – the Eneyida is only 6 books long. He also wrote another famous work Natalka Poltavka which is often taught in Canadian-Ukrainian schools.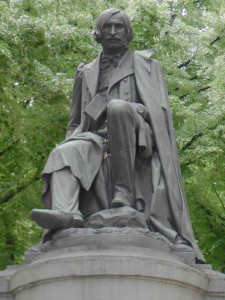 The other well-known writer from the Poltava region is Nicolai Gogol, though you might recognize his name as being Russian. Gogol is the creator of the legendary Kozak, Taras Bulba, a short story that would spawn a couple of adaptations both in Hollywood and Moscow. Although Gogol's Ukrainian up-bringing permeates his works, he relocated to St. Petersburg and then Moscow seeking literary fame. So it is with writers, moving away from their home towns. Unlike Kotlyarevskyj, Gogol did not have a house in Poltava, but he watches over the city by way of a sitting statue.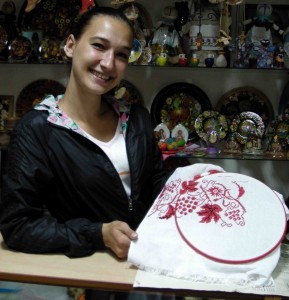 I had promised one of my aunts in Canada that I'd bring back a rushnyk made in Poltava. A rushnyk is a traditional embroidered table cloth, typically given to newly-wed couples. However, since Ukraine is experiencing an influx of tourists, these traditional pieces are slowly giving way to machine-made, mass-produced copies. I was looking for a hand-made rushnyk and, after walking around for a bit, we found a Ukrainian souvenier store. $100 seemed to be the standard price of a rushnyk and I'm sad that I didn't get two and a Ukrainian shirt. These pieces were amazing. I managed to snap a photo of the lady running the store and her current work in progress.
Of course, we ended the day at a bar and imbibed with a few "live" beers chatting about life. I told her about my time in Ukraine so far, and even mentioned the Ukrainian dating website. She went silent, I gasped as I knew all too well about that silence. Soon after she confessed she works for a dating website: she writes letters and gets paid $10 per letter… but she's only done four to date. Upon hearing this, I start thinking about offering my own writing services to women. Hmmm, a quote about writing popped into mind:
"Writing is like prostitution. First you do it for the love of it, then you do it for a few friends, and finally you do it for money." – Moliere
I gave her a few dollars for her efforts as a tour guide and then hurried back to my hotel to gather my stuff for the train that night, the idea of writing to women for money still in my mind.
I had one last stop to make before departing back to Canada and that would be back in Lviv to finally meet my Ukrainian cousins.