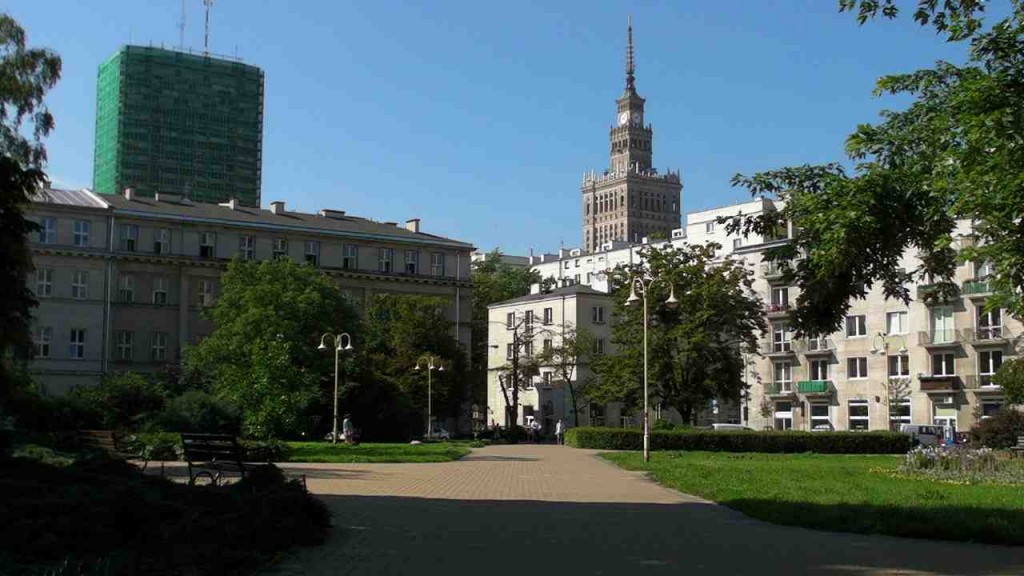 Below I review of some of the coffee and coffee shops I tried and visited in Poland and Ukraine.
Poland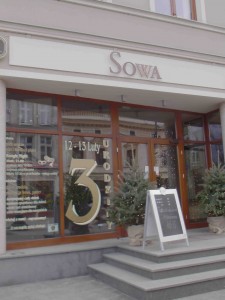 First is Sowa, a small chain of stores started in Bydgoszcz and spread around Poland. Depending on the store you go to, the ambiance and decor will be different, though the prices are similar in every store. The first was at ulica Mostowa 5 is more properly called a Confectionary Shop, Wine Bar, and Restaurant. The restaurant closes at night but the wine and coffee bar stay open serving small appetizers and desserts. A pianist played classical music which greatly enhanced the already romantic and luxurious atmosphere. The second place right across the street (ulica Mostowa 4), has a large, naturally-lit cafe area but no late-night wine or coffee bar. I liked this one cause I could sit by the window and watch people. Not only that, these cafes don't just serve up regular cafes, they make their own. Some are served with alcohol, others not. Overall, highly recommended for both the coffee and atmosphere.
The Bookhouse Cafe was probably my favourite cafe I visited in Warsaw. Located on Swietorkryszka Street just around the corner from the Oki Doki Hostel. The atmosphere was laid back and had a bookish feel. Can you guess why? It was located right beside a bookstore! Their double espresso was generous but sold for the same price as other coffee shops in the area. Internet was free, but limited to 1 or 2 hours. As for alcohol, only wine was served. Tried one of their wraps, the chicken one I think and that was pretty good. Never tried any of their desserts.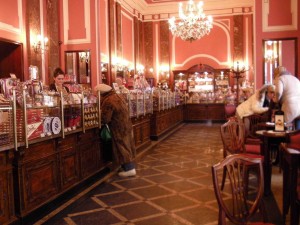 I should also mention that if you're looking for a neat cafe and chocolate shop in Warsaw, head to Wedel's Chocolate Lounge where you can sip your espresso and sample any number of their pralines served on a silver platter. 😀
Finally, the chain stores. Coffee Heaven, iCoffee, Empik Cafes and the foreign entries Costa Coffee and Starbucks all offer a similar experience… clean, uniform, and comfy business-like atmospheres supported by pretty good drip coffee and espresso. Lots of places play jazz music over their stereo but don't offer any live music. All had free internet. Exclusively Polish were Cafe Trakt, near the Royal Palace, it looked good from the outside but was kinda small on the inside and the coffee was only so-so. Biegu w Cafe is also a chain store, but is some sort of quasi-cafe/pub. They serve up all sorts of dishes and also serve alcohol. Though a nice place for a date, the serving sizes, unfortunately, don't match up with the prices.
Lastly, for a picturesque cafe culture, head to Krakow. I preferred a place called Momento's in the Kazimierz District on Plac Nowy. Though not a cafe strictly speaking, it had a neat atmosphere, good food, and double as a cafe and pub. Free WIFI to boot. Other than that, Krakow itself, like Lviv in Ukraine, offers a great atmosphere in which to sit back, enjoy great coffee, and watch the world go by.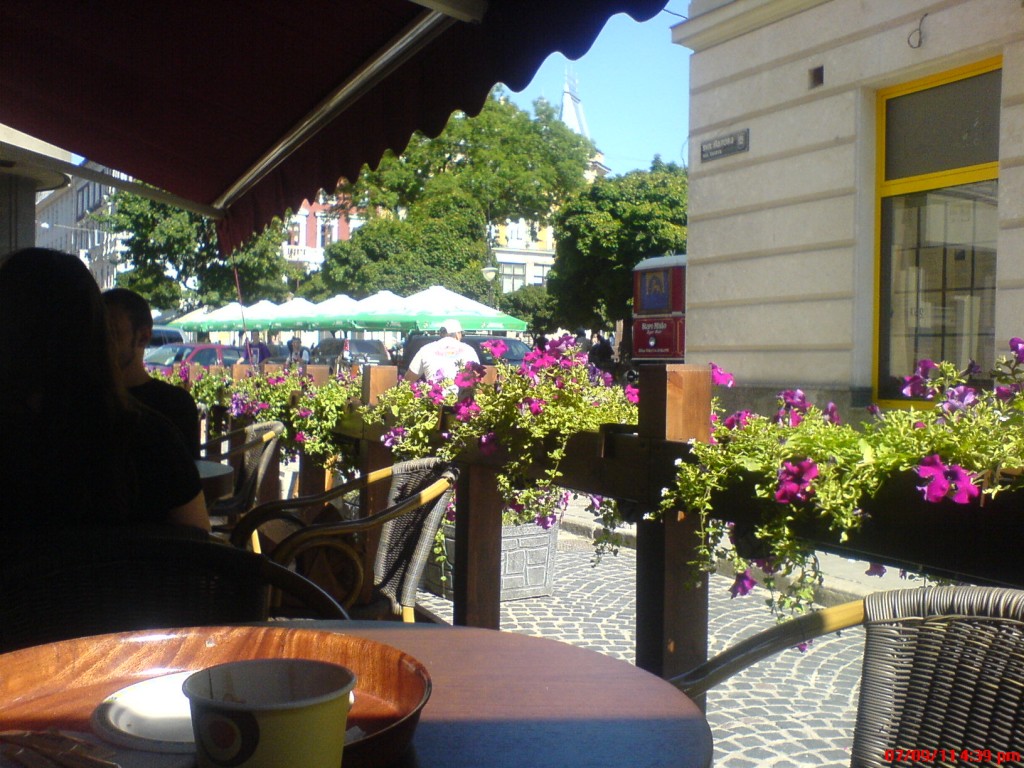 Ukraine
If Ukraine is a country in transition, so is it's coffee culture. More renowned for vodka than anything else, instant coffee seems to be the de facto standard here. However, "natural coffee", that is, ground coffee beans, is becoming more popular. Cost is usually the biggest different, "natural coffee" is about double the price of instant. While living in Kharkiv I was able to find very good natural coffee from all over the world. If you're not a coffee aficionado and don't care to be, the supermarket offers good Ukrainian coffee under the name of Zhokej. Most of all I enjoyed their dark roast (the black packaging) but their orange flavoured coffee (the orange pack!) also tasted pretty good. Although I don't usually drink flavoured coffee, Zhokej's orange flavoured coffee was a delight to smell walking into a room. That being said, who knows how or where they got the orange flavouring from.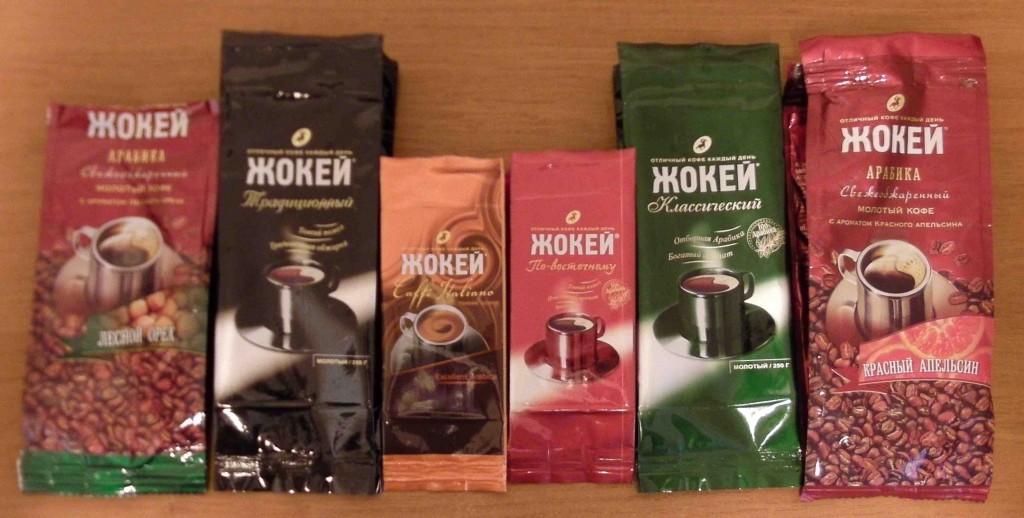 If you are a coffee connoisseur or wish to be, your best bet to find coffee beans from all over the world is Dom Coffee. Doubling as a cafe, Dom Coffee imports beans such as the Jamaican Blue Blend, Kopi Lowak and beans from Sumatra, Java and Ethiopia. Although they boast a wide selection of coffee beans, the cafes themselves are rather Spartan. The cafes look like places to buy coffee machines rather than cafes to lounge around it.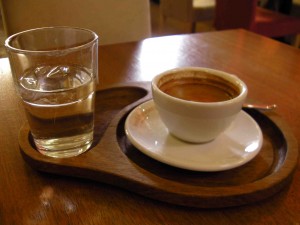 Other cafes in Kharkiv include the Art Cafe, which boasts a much more comfortable, tribal, though smokey, atmosphere. WIFI was free. Like Dom Coffee, they have quite a selection of coffees from around the world so don't be afraid to ask in broken Russian or Ukrainian for something other than your regular drip coffee. And if you're looking to hang around the university district, try out the IT Cafe, which also offers a selection of moderately priced meals and… music at night. 🙂 (Though I never got a chance to any bands play there, I did see the drum kit and one of my students said he always had gigs there.)
For the chain stores, the idea of non-smoking sections is a foreign concept to most Slavs, preferring instead to be able to smoke outside and in. The smoke-free atmosphere I could find was McDonald's. Every other coffee shop I've been to allows smoking. Coffee Life is another big chain store throughout Ukraine. Just about every cafe I walked into had WIFI.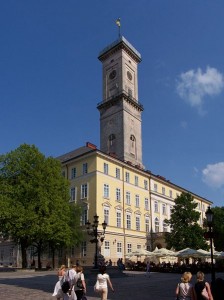 For a burgeoning and immersive cafe culture head to Lviv. In downtown Lviv (where I spent most of my time), you could generally walk into any cafe and watch the world walk past. Let's face it, when looking for a cafe the coffee itself is typically a secondary or even tertiary consideration. Instead, you want atmosphere and scenery. Well, just about ever downtown Lviv cafe offers just that. A couple of cafes that stood out to me were Gloria's Beans cafe located in the same building as the George Hotel on Procp. Shevchenka. I was also told to try the Blue Cup Cafe, a small cafe located in a naturally-lit nook at 4 Vulica Rus'ka that serves up coffee "Lviv-style", among other varieties. From what I could tell, "Lviv-style" coffee is none other than Polish-style coffee: coffee grounds at the bottom of your cup. But what Lviv offers most of all is a centrally-located, picturesque, cafe culture, especially in the summer months. You think Krakow is the place to be? Try Lviv, I bet you'll change you're mind.