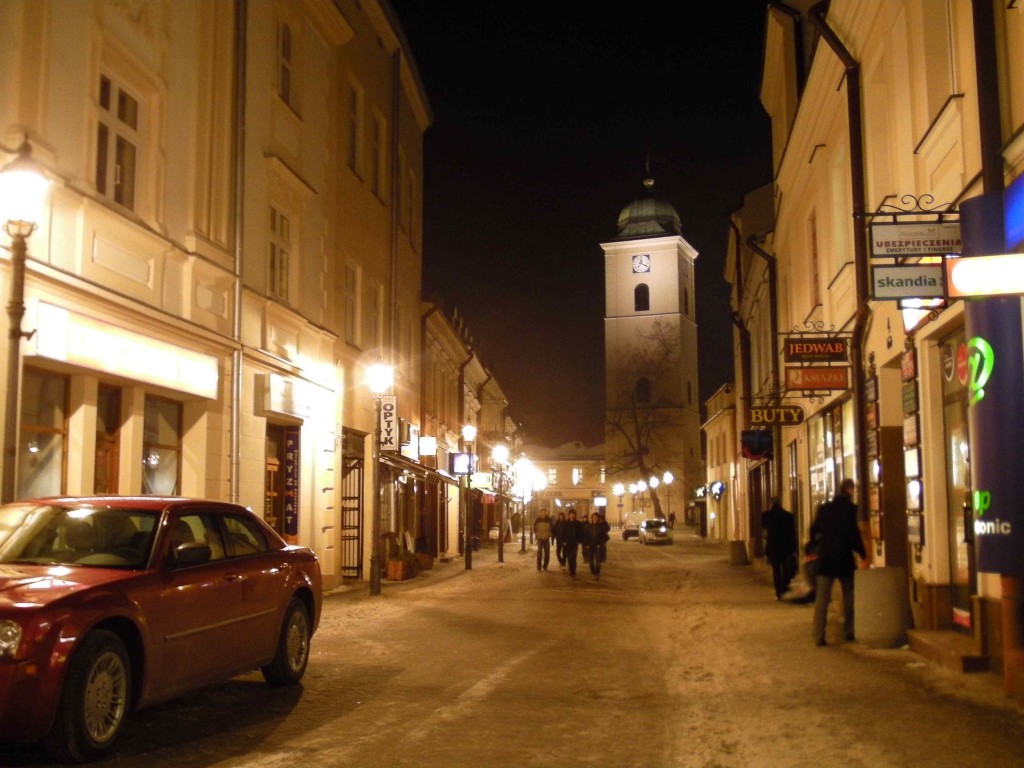 Next up on my search to find a cemetery in southeast Poland was Rzeszów (pronounced zhe-shov… that's Polish for ya). A small city, charming you might say, but I kinda felt like Bill Bryson in Neither Here nor There
, you remember, the part where he's sitting in a pub, drinking, all by his lonesome in Oslo (I think)?
I checked in early, got my bed sheets, etc. went up to make my bed. Before I did my self-guided tour oft he city, I asked the front-desk lady, in broken Polish, if she could help me find out more about Stare Brusno, outside of which is where an old cemetery is located. She agreed to look it up.
While my hostess at the PTSM hostel helped me find out more information about Stare Brusno (such as how to get there and where to stay), I decided to do some sight-seeing in Rzeszów. The city really doesn't need more than a day or two, and I was told the city has more events (and people) in the summer months than in the winter.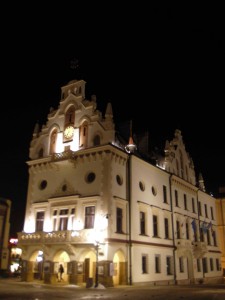 My self-guided walking tour included seeing the Rynek, ulica Maja, the Piast Monastery and Town Hall Museum, Lubomirski Palace, Farny Square, and, the Revolution Monument, and on another day, some sort of military parade and ceremony in front ofa monument to Polish soldiers. I also intended to attend one of the underground tours next the town hall in Rynek, but I always seemed to show up just a little too late… or on their days off. WIFI was pretty ubiquitous (=everywhere) so I chose to post up at the Coffee Life not far away.
And about that hostel, PTSM. Interesting. I came back to the hostel after my self-guided walking tour only to find the new hostess lady (not the one who was helping me find out more about Stare Brusno), mad at me. Now, it's not unusual for the fairer kind to be upset with me for any number of reasons, but there's a certain seriousness in it when they don't speak English. She keeps speaking to me in Polish and I'm constantly like "wtf?"
Luckily, however, there were two other English-speaking Poles there who could help me.  One guy was living in the hostel and attending the local university, and the other a professor from Poznań. Mr. Professor does some translating. Turns out that I hadn't made up my bed properly. Mr. Professor and I go upstairs to inspect the crime the I'd committed.
We inspect the bed. The pillow is inside it's casing, sheets are on the bed, what's the problem?
Well, in Poland, they give you a thick quilt which you're supposed to put inside the sheets they give you. Me, being kinda lazy, simply put the sheet down first and then laid the quilt on top. I didn't think anyone would care, let alone that the lady would come upstairs and check to ensure that I'd assembled the sheets properly.
Banishment to hell for you, foreigner.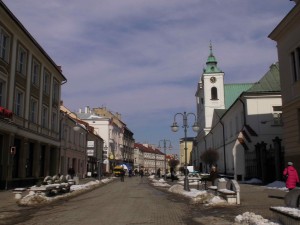 So Mr. Professor shows me how to properly assemble the quilt and bedsheets. We go back downstairs and he explains to the old lady that I'm a foreigner and that it's okay now. I apologize in Polish to the elderly lady. She's impressed by my Polish. Asks my name, I give it to her, she says I'm Polish. For the sake of the argument, I agree.
I stay and chat. Turns out they had a bottle of vodka stashed away and some food they were willing to share. All is fine so far. But we finish the vodka. Do we go out or call it a night? That's when they tell me that the hostel has a 10 pm curfew. It's 9:30. Kurwa mać!
Not to be deterred, I said I had a bottle of vodka (because of my ongoing research into Polish vodka, which you can read here and here) and pulled out the Spirytus. For those of you who don't know what Spirytus is, it's 5% shy of being pure ethanol… the stuff you clean your house with. 95% alcohol. If you do a search for it, you'll find all sorts of stories about how you can go blind by drinking it straight. I'm not sure you will literally go blind, but you certainly won't remember much of the evening if you don't cut it properly.
So upstairs we go to the kitchen to cut the almost pure ethanol and the night went on.
Even after that bottle, the Poles still wanted to keep going. Even after spending a month in Poland, I couldn't keep up with these guys. I went with them to find another "easier" vodka, but tapped out after the first shot of that bottle. Done and done. Time to go beddy-bye.
The next day I felt like a fish, swimming, seeing everything anew and with the distorted "fish-eye" view of the world. Good thing I took some photos and videos or else I'm sure I would've had difficulty remember most of the city.
I walked around Rzeszow again to try to clear my head and finally made the decision to try to find this cemetery outside of Stare Brusno. And with that, I made a failed trip through Lubaczow.