Finally here's my second post on Polish music. You can read the first part on rock and metal here.
Reggae(muffin??)
Artist: Maleo Reggae Rockers and Goście
Album: XVI Przystanek Woodstock 2010


For some reason, reggae seems to be huge in Poland. Maybe it's cuz the European Union to freely move all sorts of things, such as weed from Holland, into Poland. Is it any wonder that Holland has one of the largest populations of Poles in the EU? In any event, the Poles are a pretty relaxed bunch, and reggae would suit a lot of them. This is a solid reggae disc, recorded live at the XVI Przystanek Woodstock 2010.Although I couldn't find the live disc online, Amazon
carries a couple of their discs.
***
Artist: Vavamuffin
Album: Vabang!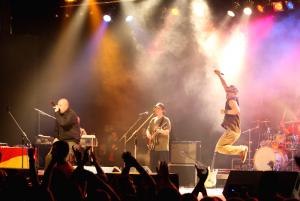 Jah jest Prezydentem! Jah jest kierownikiem! Jah jest blah blah blah…. I can hardly speak Polish, let alone rap/reggae at their speed. Think Ukraine's Tartak mixed with reggae and you have an interesting combination of rap vocals with dance music. Apparently this band is huge and I neglected to pick up any of their discs while I could. In any event, the music I heard had me hooked. Good party music and, I guess, great music to hear and see live. The song that got me hooked on this group was called "Jah Jest Prezydentem" from their Vabang!album. Unfortunately, couldn't find much for them on Amazon
. That be no problem, however, as they have a bunch of their music on their website.
***
Artist: Zakopower
Album: Na Siedem

I'm not sure if these guys are actually traditional since they have such a reggae/dance beat to them that marks them more as a modern band. Songs like "Tupany" have such a Middle Eastern influence that you wonder why a Polish band is playing it. In any event, the album I heard, Na Siedem, started off with the reggae-dance number "Galop" that had some catchy moments with chants of eeya-eeya-eeyeh! Available on Amazon
.
Jazz
Unfortunately, I didn't find any jazz bands on disc, but I did see a few bands live. I went to Tygmont Jazz Club on a Tuesday night and was disappointed by the offering. It's possible that the better musicians play toward the end of the week, though the bar looks as if to offer a more club-like atmosphere on the weekends. There was one day I attended a high school jazz recital. Why? You may ask. Well, I had informed the front desk of the hostel of my desire to see some live jazz and they pointed out an ad for a show on Monday night. Well, yea, it was jazz alright, but it was a high school jazz recital. I was the foreigner in more ways than one. In any event, the female lead vocalist really stood out with her powerful vocals and her classmates were equally good on their instruments but, just like at Tygmont, stage presence was lacking.
Traditional
I found one disc of traditional Polish music titled Powiśle Maciejowickie, a collection of songs recorded by one group throughout one region of Poland. I'd love to tell you which region but I seemed to have lost the disc. Most of the 36 tracks are just over 2 minutes in length. I found this disc at the Ethnographic Museum in Warsaw. Neat collection. Good for those who want to hear rare music from the countryside. I couldn't find the disc online.
***
Artist: Kroke
Album: Various

Although I never bought one of their discs, I had heard a lot about Kroke and their klezmer music. This band, although they started as traditional, has taken steps to broaden their scope of klezmer music. I wasn't too impressed, though maybe I just didn't find the right disc.Available on Amazon
.
***
Artist: Grzegorz Turnau
Album: Fabryka Klamek

Folk rock? Easy listening? Jazz Not sure how to classify this guy. I'd recommend this band if you were looking for something to put on the background. Some of the tracks I was given were from the Fabryka Klamekalbum, which I couldn't find online. Some of those songs were like circus music. The albums available online would probably fit into jazz. Overall, very good chill-out music to remind you of sunny days.Available on Amazon
.
Classical
Artist: Chopin
Album: Various

Currently unsigned, this classical composer has great potential. Live appearances are rare. He's a little ahead of himself by setting up an interactive museum in Warsaw but the place is pretty neat. You get a little keycard after you buy your ticket (entrance is free on Tuesdays) which is set to the language of your preference. When you wave your keycard over the sensor at each exhibit you can read or listen in your native language. They also had these cool benches which you could open a folder of his compositions and the scanner would, in theory, recognize the barcode and pull up the appropriate music. Interludes, sonatas, arias, etc. Moreover, the image displayed on the page was supposed to be touch-screen, a cool feature for sure. He needs to re-check some of the exhibits since some of them weren't working.In any event, my favourite work by this dude is his "Funeral March." Not the happiest tune out there but it puts you in a contemplative mood. It is also a very easy song to learn on piano, and so I hold it dear to my heart as one of the first songs I learned on piano. Other than that, I also like Opus 66, "Fantasy Impromptu," which I remember first hearing while on a cruise ship on the Mediterranean. Some of his music can be a little hard to digest and his genre certainly isn't for everyone. I respect his ability and see a great future for this man.Available on Amazon
.
And there you have some of the muzyka that I found while travelling through Poland!