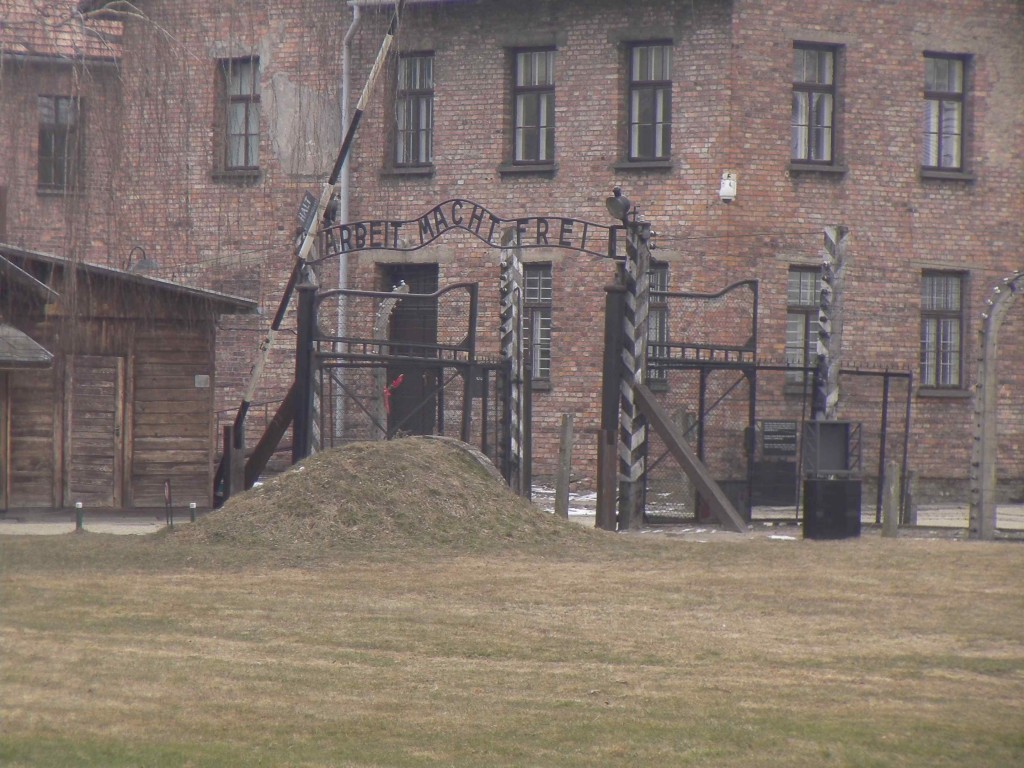 Kraków is itself a great tourist attraction. Not far from Kraków, however, are two other tourist attractions: the Auschwitz-Birkenau concentration camps from World War 2 an the Wieliczka Salt Mine. I think I paid 100 PLN for the A-B trip (about $30) and the same for the Salt Mines. Both were interesting, although I had mixed feelings about the day trip to Auschwitz.
Auschwitz-Birkenau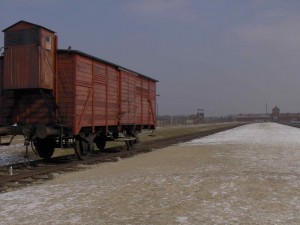 Post-Schindler's Factory trip, I wanted to see Auschwitz with my own eyes. Joining two ladies I met in the hostel, we took a day trip to Auschwitz-Birkenau. Auschwitz is the more well-known concentration camp but Birkenau is the one where just as many, if not more, horrors took place. Seeing the place with my own eyes put a real image to all the things I'd heard and seen in the past. It's horrific to think about the days they must've endured, cold, hungry, no music, no coffee. When they walked off the train in Birkenau, they turned either left or right. Left meant work til death, right meant death right away. 1.3 million people died, 90% of them were Jews. Staggering numbers. Not to mention imagining the process of dying in a gas chamber. The initial thrill that you will get a shower only to be burned alive. Sickening.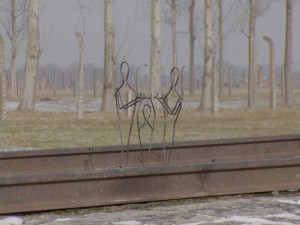 I was surprised, however, that I wasn't more shocked. Having seen Steven Spielberg's heart-rending movie Schindler's List, Auschwitz seemed a little too clean and touristy. I heard that there is some discussion about whether or not Auschwitz should actually be open as a tourist attraction. I can see the problems they are facing. On the one hand I recognize the historical significance of the place and that people need to be made aware of the horrors that went on there. On the other hand, I can't help but see the place being used as a tourist draw. I believe the entrance and souvenir money goes toward the preservation of the camp itself, but the fact that Auschwitz itself is a tourist draw is a little unnerving. Makes me wonder what other, currently war-torn, countries will do with their trouble spots. Rwanda? The Middle East? Ukraine?
Overall, although Auschwitz is touristy I recommend seeing it anyway.
Wieliczka Salt Mine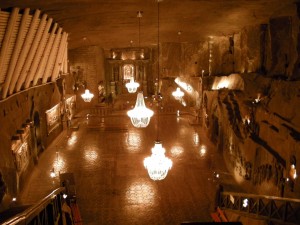 My last day trip from Kraków involved the Wieliczka Salt Mine. More than a few people recommended that I go and, I'll admit, especially after Auschwitz, the Salt Mine was a welcome relief and astonishing trip. Trudging down 2000 steps behind our amusing tour guide, we meandered through the salt mines for the whole afternoon, stopping to look at how they mine salt, some salt sculptures (few of my pictures actually turned out), and even witnessed an orchestral presentation in St. Kinga's chapel. Many luminaries have been here before, including Nicolai Copernicus and Pope John Paul II, and the chapel hosts quite a few weddings every year.
But them Poles impressed me yet again, not just with the salt mine itself, but its extra features. First, a super clean, deepest-toilet-in-Poland in which I had to pee just to say I pissed in the deepest part of Poland and, even more shockingly… Wi-Fi. Wi-Fi? Yep, you can update your Facebook status, tweet a tweet, send an email, or look at porn, all for free, in the deepest nether regions of Poland. Why does this fascinate me? Try getting cell phone reception on a farm field in rural Manitoba or the Ukrainian subway system, it doesn't happen. Although I'm sure there are more practical applications for Wi-Fi access in the deepest part of Poland, it is a touristy gimmick available near the restaurant and cafeteria.
Overall, the Wieliczka Salt Mine? Highly recommended.
I stayed for a few more days in Kraków but I needed to make a choice: either stay and find a job (and finally learn Polish) or get going toward Ukraine. I decided to go to Ukraine. Before Ukraine, however, I needed to find a cemetery, particularly one located somewhere in southeast Poland where, apparently, my Polish/Ukrainian/Austro-Hungarian ancestors, are buried. In order to do that, however, I needed to stop over in Rzeszow, Poland.