If I had to choose one word to describe Beijing and the few other cities in China that I've been to, it would be "Go!" Not as in "go and experience" but more like "GO! MOVE! GET OUT OF THE WAY!" Now, I'm not going to lump all of China into this category because, really, my experience is borne mostly from Beijing. But it's no word of a lie to say that Beijing is a fast city and one needs to learn how to walk the streets in order to avoid any confusion.
If any of you have been to any part of Asia you'll be familiar with how people walk around here. In general, it's pushy. However, some places such as Vietnam, Thailand or even Korea, have a "melding" or "yielding" effect that accommodates the massive amount of people in such a small place. In those countries, there is a seamless merge of people: if you see somebody walking along the same trajectory as you, you make the necessary preparations to accommodate their them, and they return the favour. Maybe it's Buddhism or some other religious belief, but there is an amount of awareness of others.
In China, however, that same awareness is almost entirely absent. In the West it's known as encroaching upon someone's personal space. I come from a relatively "small" city (by Chinese standards) in which it's a rare experience to walk within three feet of a person so should you encroach upon that "personal space," you're inviting trouble.
China, however, has many cities over a few million people and that had bred a system of fast-paced walking that not only relies on speed, but ability to maneuver around people and, should contact occur (a rare occurrence), an ability not to 'break face'. That is, if let on that you did indeed see the other person but chose to keep moving forward regardless, then you are to blame. It's not as if the Chinese people themselves aren't aware of this problem. It happens to both foreigners and Chinese alike. It really does give meaning to the idea of a "fast-paced" city. Below is a simply illustration of a typical walking encounter.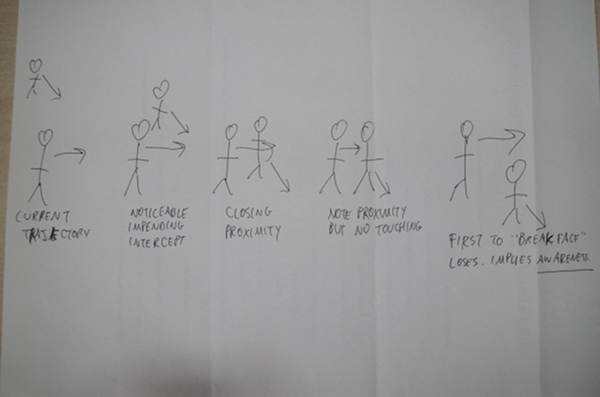 That's just the people. What about vehicular traffic?
If you recall how I described New York as a city with an attitude of "Hey! I'm walking here!" then Beijing is a city with an attitude of "Hey! I'm driving here!"
Again, considering other parts of Asia (where there are large communities of Chinese people),  if you've been to Vietnam you're aware of the multitude of motorbikes that will swerve around you as you walk. One of the typical tourist things to do is walk through a crowded street camera in hand and capture the "parting of the sea of bikes." (That is to say nothing of the added danger of videoing the whole thing.)
In Beijing, however, you take your chances walking in front of a motor bike. This might sound like common sense to most of you in the West, and that's a good thing. But when there's a relentless onslaught of cars or motor bikes, you need to make a decision about how long you will wait before you simply get going (generally, it's about 15 seconds). Move, or don't, but don't impede the traffic flow. For that matter, it's best to travel in packs as taxis and other cars are less willing to run you over if you are in a pack (maybe 5 or 6 people) instead of on your own. Unless, of course, you want to test the truthfulness of your health insurer.
There is one beast that no one touches, however, and that is buses. Trucks, motorbikes, cars and people will yield if you make clear your walking path. Buses, on the other hand, seem to go by a different set of rules. It's a rare occurrence wherein a bus yields or stops for a pedestrian.
Not to worry. If you make the error of walking in front of a moving vehicle or in some way impeding the flow of traffic, the drivers are kind enough to let you know by way of a signal. Their car horns, though typical car horns, seem to bleat "GET THE FUCK OUT OF THE WAY! GET. THE. FUCK. OWTUVTHEWAY!" And once the passage is clear once again, they seem to have no expression but really, can be read more like "Thank you, and have a nice day."
So it is, Chinese walking. I'm not the only one privy to this experience. Many a foreigner and Chinese folk have expressed similar sentiments. What's even more interesting is that my students have said they're all practicing for their driving test, and so I wonder, given their awareness, how they drive different?