If you're like many travelling through Australia, you're no doubt balancing your time between working and travelling. Between all that fruit picking and drinking you can attend some music festivals to empty your wallet at some of the biggest music festivals around. It's expensive for North American and European artists to come to Australia so when they do, they come in droves and the show is huge. Although music festivals aren't always wallet-friendly, they can expose you to both local and international artists that you might never get another chance to see.
Harvest Festival (Major cities)
http://www.harvestfestival.com.au
Kicking off the festival season, the music-only festival falls at the beginning of the Australian summer, usually mid-November. 2012's lineup included acts such as Beck, Sigur Ros and Mike Patton, while the sideshows included the catchy surf'n'western act Mikelangelo. If you can make it and can spare the cash, go for it, otherwise, there are bigger festivals later in the summer (see below).
Homebake (Sydney)
http://www.homebake.com.au
An interesting collection of music, film, and comedy, 2012's lineup included Australia's own Hilltop Hoods and Tim Minchin. Sadly, I never got to attend this festival as I was in SE Asia at the time. However, the one day festival is something like the WOMADelaide festival in that it doesn't focus on any one art, preferring, instead, to have a few avenues for variety's sake.
Australia Day (nation-wide)
http://www.australiaday.org.au
If you're really worried about the hard earned money in your pocket, then Australia Day will be your type of festival. It's free. Celebrated across the continent, Australia Day celebrates the founding of the nation by Captain James Cook back in 1788. Each city puts on its own celebrations hosting local artists mostly, though sometimes foreign bands will be brought in. The day pulses with enthusiasm and the party-hard antics that characterize so much of Australia and its citizens. Celebrating both its traditional roots and how far it has come since its European prisoners came over, Australia Day offers plenty of activities for all ages.
Big Day Out (Major cities nation-wide)
http://www.bigdayout.com
A long-running and renowned mega-festival that includes a variety of local and international acts in a diverse range of musical genres from rock to electronica. If the party stops in one place, it usually is just getting underway in another. The festival is usually held in a stadium or park grounds, so there are stages sprinkled all over the place. Tickets will cost you about $180 while merchandise can range from $20 for a knick knack to $40 and up for shirts and jumpers. Food prices are usually exorbitantly high, as are alcohol prices, so be sure to budget yourself accordingly. The festival also jumps over to New Zealand for a few shows.
Soundwave (Major cities nation-wide)
http://soundwavefestival.com/
This is a newer festival and focuses on rock and metal music. It usurped Big Day Out as the premier rock and metal festival in Australia. Bringing in small and large bands from all over the world (Slipknot, Marilyn Manson, Metallica, etc.), the festival is relentless from noon til midnight with its 16 stages split into 8 sections. Tickets cost upward around $180 but the shows sell out months in advance. Hosted in most of Australia's major cities (excluding Canberra and Darwin), if you can't get tickets for Sydney or Melbourne, you can usually get tickets for Adelaide or Perth.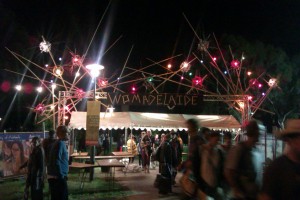 WOMADelaide (Adelaide)
http://www.womadelaide.com.au/
Held in Adelaide in March, this festival is actually part of a larger, global, series of festivals held from New Zealand and Australia to Europe. The series of festivals is put on by the World of Music, Art and Dance. Local and international acts playing mostly traditional and folk music that celebrates the diverseness of world music. The three day event hosts 5 or 6 stages spread out over Adelaide's Botanic Park. The festival also hosts workshops where you can learn the music and dance of various cultures; an international food market where you can sample food from around the world; and a global market where you can buy packaged food and wares from around the world. This festival has a very laid-back attitude to it, so bring a mat, grab some mats, and chill out on the lawn while enjoying the sounds of the world.
Melbourne International Jazz Festival (Melbourne)
http://www.melbournejazz.com
Even if you're not into jazz, this is the festival to attend. With a history of top-rate musicians from Chick Corea to Zakir Hussein to Sonny Rollins, this festivals pulls the big names from all over the world and brings them Down Under. Not only will you have the chance to see international artists, but it's a time when Australian jazz musicians try to gain exposure and perform for the world. Held over two weeks in June in various venues in downtown Melbourne, the festival hosts jazz, blues, big band and swing music from all over. Although some folks are put off by jazz because they "don't get it," don't worry, this festival will serve as an educational festival exposing you to the multitude of types of jazz and related music. Sit back, relax, and enjoy the sounds of classics and modern jazz and let the crazy world go on by.