I initially intended to make one simple post about the music I picked up as I made my way through Asia. However, that proved impossible with the number of great artists I stumbled upon. Some of the Cds were picked up simply by walking into a music store and selecting 3 random Cds (usually in Korea and Thailand), others I asked for help (Taiwan). I've grown up listening to rock and metal and, as a result, I amassed quite a few discs from that genre. This post, then, is about the rock and metal discs I picked up. I don't aim to give a complete overview of the rock and metal scene in Asia, only what I was able to pick up.
I'd like to note that I really appreciate artists who write their lyrics in their native tongue rather than in English. Typically, those artists (from non-English countries) who sing in English are trying to capture a larger market share. Their fear (or their record company's fear) is that no one will understand them. Let's consider two things: 1) At live shows, I find it very difficult to understand any lyrics, regardless of the artist's language, especially in small bars; 2) what makes these artists think anyone will care any more about their causes if they sing in English than if they sing in their native tongue? To be fair, I guess when your vox are mostly growls, it doesn't matter what language the lyrics are in. Lastly, in my opinion if a country is open enough to allow metal bands (such as those listed below) to play live, then the country probably has some open-minded tendencies. Now if I only understand the lyrics (:P)….
Artist: Various
Album: Japanese punk/metal mix CD
Country: Japan
Website: www.cure-net.com

I stumbled across a Japanese rock fashion magazine while in Taipei and was pleasantly surprised to find a CD attached. I'm not saddened by the fact that I shelled out $30 for two issues of the magazine. Though I couldn't make out which people were men or women in the magazine (it's a trait of the Japanese rock scene), I could sometimes make out whether or not it was a male or female singer screaming at the top of their lungs. These two Cds had drive and energy and make me want to go to Japan if only to see these bands play live. Given the pictures in the magazine and the music I was hearing, I can only imagine what their live shows would be like. The drummers are spot on with their double kick work, the singers belching out notes that I didn't even know existed, in addition to the regular guitar soloing and bass thumping. Notables include: "ヤマイ" (Yamoi) by Zig + Zag (available on Amazon), "umbrella" by BALLAD., and "さとこ"by 幻妖怪麗見世物一座・芒命少年. I would write more, but the entire CD is pretty solid.
***
Artist: Maximum the Hormone (マキシマム ザ ホルモン)
Album: Rokimpo Goroshi (ロッキンポ殺し)
Country: Japan

Although I never made it to Japan while in Asia, a friend of mine went and brought me back a couple of Cds. This is one of them. I asked her to bring back whatever was the craziest to her, and that I'd probably like it. And I liked this CD. The album cover alone tells me that this CD is about something inappropriate and lewd, two things that usually make great music. A driving punk rock band, it's hard to tell what setting this band's CD would be best played in. Possibly travel music, or, simply, see these guys live. They have a few discs, but Rokkinpo Goroshi is available on Amazon
.
***
Artist: Black Infinity
Album: 666 Metal
Country: Vietnam
MySpace: http://www.myspace.com/theblackinfinity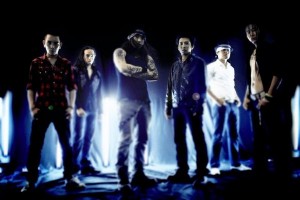 I was disappointed to find that their lyrics are written in English (and sung, too), but their mySpace page states they reside in LA, US and Saigon, Vietnam, so maybe that had something to do with it. Simply, they are the best metal band I've heard in quite a while. I'm thinking one of this band's greatest influences was Dream Theater since they add a lot of keyboards and, most of all, their compositions are well-structured and dynamic. And a touch of Cradle of Filth. Especially take a listen to the use of the Vietnamese traditional instrument on "The Secret". Brilliant. They even have a piano solo, track 7, "When Her Love On Fire", which is really good and gives the CD an extra dynamic. This is followed by a piano intro to track 8, "Deathbed Illusion", lasting for only 15 seconds or so, before launching into a full metal assault. Track 8 especially gives tribute to DT, if I'm right in making that claim at all. I found this CD to be great while travelling on the Vietnamese night buses. I could not find this CD for sale online.
***
Artist: Anthelion
Album: Bloodshed Rebefallen (沐血再臨)
Country: Taiwan

I'll admit it was the CD cover that caught my eye. I also had walked into the CD store and asked them to piont me to their metal section. They took me to one shelf lined with metal Cds. Awesome. This CD in particular was impressive. More speed metal than thrash, the band also serves up a short piano solo. There's something about piano solos on metal albums that always attract my ear. With track titles like "Snake Corpse", "Hibernation Glaciation Exuviation (I guess roughly translated as "Sleeping, freezing, and shedding off dead skin") and "Bloody Matrimony", you might think twice about sharing your newfound CD with your parents. Available on Amazon.
***
Artist: Alien Avenge (異族亡魂)
Album: Tonatiuh (第五太陽紀)
Country: Taiwan
MySpace: http://www.myspace.com/alienavengeband

2010 CD. The artwork impressed me most of all, though the music itself left me kinda unsatisfied. The have some scary friends on mySpace though.
***
Artist: Chthonic (閃靈)
Album: Mirror of Retribution (十殿)
Country: Taiwan

Another impressive cardboard CD cover. I found this CD recommended in the Lonely Planet's guide to Taiwan. No apologies full force heavy and pounding metal. They didn't do it for me but some heavy metal-ers might like them. Available on Amazon.
***
Artist: Prophecy
Album: Đôi Cánh Vô Hình
Country: Vietnam

Debut album apparently. Solid rock band. Especially like track 3 "Ki Uc". Track 6 "Muoi Ba" sounds like some sort of Josh Groban meets Linkin Park. Love the lead singer's vocals. Maybe not for everybody, but if you want some rock music with some edge, this is it. Definitely great party music or background music for a travelling scene in a movie. Could only find this band on YouTube with their song "Đắng".
***
Artist: Kluay Thai
Album: Sib Song Sat
Country: Thailand

From the land of Muay Thai and Bangkok excess comes this admirable effort of Thai rock/metal. This band has apparently been around for about 10 years or so and have released numerous albums, which tells me that some amount of financial and artistic success have been achieved. The album has much of the anger of Western rock bands like Disturbed
and Soil
, but their creations are their own. Kudos to the band for including a set of cards that show some sort of zodiac (pictured below). Good party music me thinks. Available on Amazon.
***
Artist: Roses Fall
Album: In My Time of Dying
Country: Thailand

Decent. I write about them because you might like them. They have a bit more edge than majority of the pop rock available in North America, but I bet seeing these guys live would be better than hearing them on CD. Available on Amazon.
***
Album: Global Metal
Artist: Various
Country: Various

Last but not least, a documentary done by Canadian anthropology graduate Sam Dunn explores the global metal scene. The guy leave North America and ventures around Asia, the Middle East and South America to find exactly where the headbanger's journey ends. Both documentaries he made are excellent, but only Global Metal contains music from bands from the Far East. Available on Amazon.
And there you have it, the discs that I brought back with me.